Quite a few months ago my husband & I built him a new computer, it was the first time we have ever took on a task like this and amazingly we found it pretty easy. One of the final components was an ATI graphics card that has support for 3 displays which is what they call Eyefinity. When we got it, we found out quickly that what we thought we could do with it, we couldn't. It has a specific combination of displays it will support together. We also were quickly schooled in the difference in Active DisplayPort adapters and Passive DisplayPort adapters.
This card requires the use of an Active DisplayPort adapter, and for our first mistake we ordered a Passive one because at the time the only Active one available cost $94.
So my hubby has spent months having to fiddle with this adapter day after day to keep his 3 displays up and running. Well the other day we found a new adapter on Amazon specifically made by ATI for these graphics cards. It was quite a relief to know that we would have something that works right now. He has been using it for a week now flawlessly.
So if you were an adventurous one and purchased one of these cards and have been disappointed get one of these and find new life in your graphic card.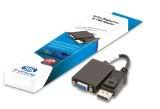 Sapphire 100916 Active Display Port (M) to VGA (F, Slim) Cable - OEM