I of course used Random.org and here is a screen shot of the number picked.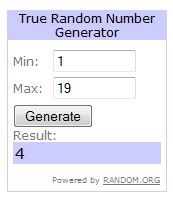 and the 4th entry was
I will be DMing you in a few Ethel for info.
CONGRATULATIONS and thanks for following me and showing me the twitter love.
I will be holding another contest in October as my blogoversary is coming up :D a big 2 YEARS.
Be watching for what it will be I'll try and make it a big one.
~Mom with a Scattered Mind~